Because it is the Cool thing to do and I am not goign to put Bill in my top 2 like Dabu because I am not crazy. Okay thank you.


18. Kim
BoreWhore. I wish you had used your idol and then told Jeff you kept it in your panties. That would have given you instant 1 because Probst clutching Vag juice would have made my day... but you didn't so just fuck off. Also why is "Kim Spradlin Hot" a trending thing for her name on Google?
17. Leif
BoreWhore 2, but at least you got to look like a cabbage patch kid in his little box omg so cute
16. Alicia
As bad as Colton, but you lasted longer and was hatin on mah gurl the whole time. Also your fleshy spillage all over your bathing suit disgusted me. Either just go fat or thin. Don't be somewhat thin, but with fat armpit cleavage and ass cheeks droppign over every inch of fabric... ew
15. Colton
I totally woulda fucked you before you episode one but you're just plain awful and now I wouldn't touch you in a hazmat suit
-----------------------------------------------------
14. Chelsea
Less boring than Kim, but self righteous instead. I wish Tarzan had laid his shit stained underpants across your face while you were sleeping. I would have.
13. Nina
You reminded me of one of my Lesbian Neighbors. Except, unlike Lesbians... you are anything but nice and I would never let you dogsit for me. I wish you would have busted up more than your lip you harpy
12. Bill
Oh good another borewhore, but at least you had a helping handful of colton drama to make you memorable. I saw your boring comedy act on YouTube. get a real job
11. Matt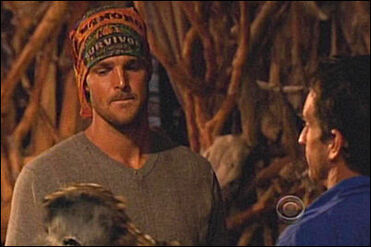 Ugh. Never alienate the gay guy, ya dumb-ass. Obv he'd flip to the girls and braid hair with them Who You foolin?
10. Kourtney
Gurl, you're cute, but you need to stop and listen. It's a rope sling, not a damn ball pit. Also, don't let Sandra near your hat.
9. Monica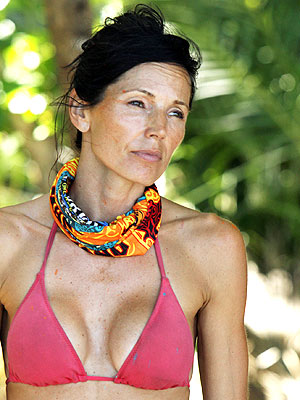 You are one weathered ho, but Dabu
notified me of your story and tenderness so I am obliged to rank you higher
8. Jonas
the Pillsbury dough boy of Sushi Chefs. I till thank you forever for letting me get to see Dabu rage about your elimination after he picked you as the winner for no reason. lol. hate you for watching as Christina got told to jump in a fire. Bystanders are bullies too booboo! (I'm sorry Dabu, but I just don't see how he ever was going to win)
7. Troyzan
I loved your beard more than I loved Kim's mustache. You were a true star on this season of Survivor: Troy's Island. Don't appreciate the mugging for fan favorite. You make Colton Crumble look like Colton Humble.
6. Tarzan
I hated you for not like the Christina, but I will forever imagine you squatting on Chelsea's face as revenge, and for that I thank you sir. You're what Phillip was SUPPOSED to be.
5. Sabrina
I can't make fun of you gurl. You were a goddess. Should have won, but you were a Kim coat tail rider.
4. Jay
I kept forgetting about you so you kept getting further up the list by accident. Congrats.
(P.S. Keep the facial hair <3)
3. Kat
I learned to love you. You were fun and amazing, and your final speech was the best I have EVER seen at a FTC. Evan betta than Sue Hawk's! Good luck with your heart surgery so you can make beautiful inbred babies with your cousin. Lots of love.
2. Michael
BAM! HAWT! I would let you bend me over the tribe shelter and play "find the hidden immunity idol" allllll day with me. You tall, dark, and handsome in-his-own-weird-way asshole. mmmm! Take me in your arms before the people from Animal Planet's "Finding Bigfoot" find you.
1. Christina
My ancient magic using Korean Goddess with the tits. You are beautiful, strong, kind, and wonderful! If only you had kept your spark! When you delivered, you delivered. You were one of the best underdogs I have even seen, and hands down the best Asian on survivor! (With Sylvia in second) I hope you come back another season, and win so that you can be the sole person we get like a hundred confessionals from. You're amazing! When the Mayan's come and get us all, you'll still be here~ A true sole survivor.
Eternal Survivor Love