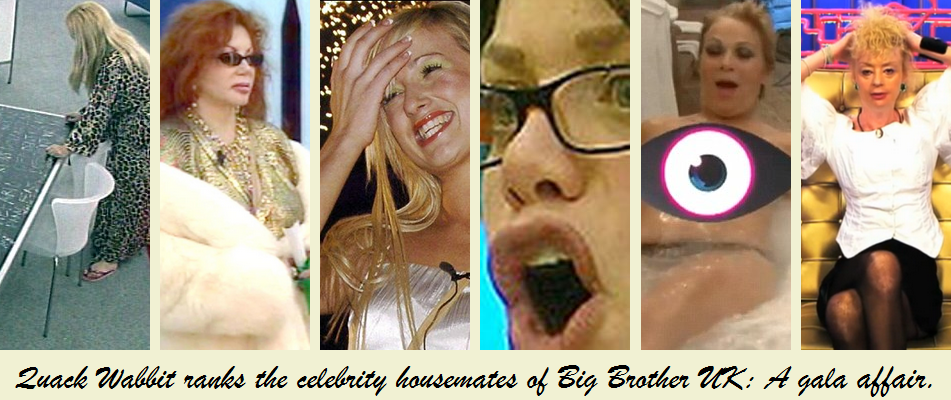 So!
Celebrity Big Brother awakens different passions in different people. Some see it as an inferior spin-off to the main show, which by its brevity and the image consciousness of its participants can't achieve the depth of the civilian series. Others tune in only if they're familiar with the American housemates on offer. But to me, there's a lot of upsides to the program which can't be denied. For the viewer who enjoys the Big Brother UK format but can't hack the protracted runtime, it's a forgiving alternative. For those interested in the peculiarities of Z-list fame, it's a portal into a world of British talk show hosts, soap stars and tabloid figures, each with some embarrassing Daily Star scandal to their name. And finally, for those who like to watch a career get made or ruined in an instant, well... see Houghton, Chantelle and Goody, Jade, respectively.
I had planned to hold off on this a bit longer, but with the demise of the most buzz-generating recent series of CBB upon us, and the handover of the Big Brother - International Versions forum to my Canadian brethren imminent, I was put in a quandary of timing. The only options that made sense were to wait for the premiere of civilian Big Brother in six months, or to go ahead and strike now. As you can see, I've chosen the latter.
This is my first thread ever at Sucks (except for the general series threads, but I consider those
ours
) so please be nice to me! I already know there are times when my posts will be met with silence -- really, how many of you have an opinion on Lisa I'Anson? -- but I'm hoping we can engage in a thoughtful discussion about what makes a great celebrity housemate, what makes a shitty housemate, and what makes a
controversially beautiful housemate
, and in better knowing this parade of showbiz rejects, wannabes and hasbeens, we might come to better know ourselves.
So please relax and settle in. I've prepared a
little mood music
for you to bop around to while you fill out mail orders or whatever the fuck you people do, so put some tunes and get hype! I'll get back to you later today with the worst Celebrity Big Brother housemate of all time. For those who like to click on a little plus sign every now and then, I'll give you a spoiler.
Spoiler
140. A housemate from a very controversial series.
Peace!
TABLE OF CONTENTS.
9. 
Kellie Maloney
 (
Celebrity Big Brother 14
)